SAMOS AIRPORT (SMI) INFORMATION
Origin
Airline
Flight no.
Scheduled
Est./Actual
Status
No flight arrivals were found at Samos Airport.
Destination
Airline
Flight no.
Scheduled
Est./Actual
Status
No flight departures were found at Samos Airport.
Car Hire at Samos Airport
UNBEATABLE VALUE CAR RENTAL
Free Amendments | Free Cancellations | No Card Fees



Samos Airport - All Information on Samos Airport (SMI) Samos Airport
Samos Airport, Pithagorion, Samos 831 03, Greece
phone +30 22730 87800
phone+30 22730 87800 (Lost + Found)
emailinfo@fraport-greece.com
emailinfo@fraport-greece.com (Lost+Found)
call_endN/A (fax)
Facts and History about Samos Airport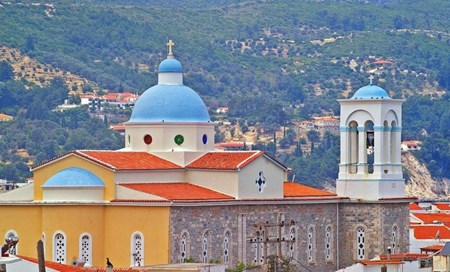 Samos International Airport, also known as "Aristarchos of Samos" after an ancient astronomer and mathematician, is located 5 km from the village of Pythagorio located on the southeast coast of the island of Samos, Greece. The airport's IATA code is SMI and the ICAO is LGSM.
The small airport features one single and short runway that serves both arriving and departing flights and one small terminal of two floors with a total of 5 gates of which none have jet-bridges. 
The runway is of asphalt and is 2,100m/6,890ft and it sits in the surroundings of mountains and sea so the pilots have little room for errors when landing or taking off. 
In 2019 the airport handled 467,395 passengers, which was an increase of 3.9% compared to the year before, and 5,976 aircrafts moved through the airport that same year.
The airport first opened in May 1976 and wasn't updated until the late 1990s and early 2000s when the terminal was renovated to be able to handle a larger number of passengers. 
In December of 2015 the privatisation of several Greek airports, including Samos Airport, meant that the responsibility was handed over to Fraport AG/Copelouzos Group through an agreement between their joint venture and the state privatisation fund. The agreement states that Fraport AG's subdivision Fraport Greece will operate the 14 airports over a time frame of 40 years beginning on April 11th, 2017. 
In March of 2017 Fraport Greece presented a master plan for the improvement of the airports which include these things and more:
Upgrading of sanitary facilities
New fire station
Improved fire safety in all areas of the airport
Improving lighting
Improving marking of airside areas
General clean-up
Enhancing services
Offering a free WiFi connection
Remodel and expand the current terminal
Increase the number of check-in counters, departure gates and security control lanes
Update and reorganise the apron area
There was a fatal crash on August 3rd, 1989 when Olympic Aviation Flight 545 crashed into Mount Kerkis while it was approaching to land. All three of the staff and all 31 passengers died in the accident.
Arrivals, Departures and Airlines at Samos Airport
Transfers at Samos International Airport, SMI
Rental Cars
The rental car companies at Samos Airport are located in the arrivals, all users area of the airport and it is usually best to book your vehicle in advance.
Trains
There are no trains on Samos island.
Taxis
Taxis are the most convenient option for transfer to or from Samos Airport, although not the cheapest. Metered taxis are found at the taxi rank outside the terminal. The fare to or from Samos town is around 25-30€, depending on distance, size of luggage, company and time of day and the weekday, and it takes around 30 minutes depending on the traffic. 
Taxis drop departing passengers off right outside the entrance.
Buses
Local transit buses run between Samos Airport and the bus station in Samos town, with several stops in smaller villages along the way, including Pythagorio. 
The bus stop is located right outside the terminal and the journey takes around 30 minutes and the ticket price is 2€ for a single adult one-way journey with children under the age of 6 travelling for free in the company of an adult. 
Shuttles
Charter tour operators often have transfers pre-organised for their customers, and some hotels offer to organise a shuttle service at an additional fee.
Ferries
Ferries are not an option to transfer to or from the airport, but to or from the island. There are 3 ports on Samos located in three different areas of the island and they are directly connected to more than 60 ports in the surrounding areas, including two locations, Athens and northern Greece, on mainland Greece and one location on mainland Turkey. See more about ferry services to and from Samos.
Parking
There are public parking spaces located opposite the terminal building and other parking options in the nearby areas. They are not run by the airport.
Hotels near Samos Airport
There are a number of hotels to suit all budgets and requirements at or near Samos Airport.
Smoking at Samos International Airport
There is no smoking allowed within the airport property. Smoking is only allowed outside.
WiFi at Samos International Airport
Samos Airport offers free WiFi with no limits to all visitors. The free network is named "Fraport-Free" and once logged in just open a browser to visit the welcome page from which you can then surf the internet.
Check-in desks and security control at Samos International Airport
The single terminal is divided into two floors with the 10 check-in desks and the security control located on the first floor of the departure area of the airport.
Lounges at Samos Airport
See and book airport lounges at Samos Airport.
Food and beverages at Samos International Airport
There are three small coffee shops located in different areas of the airport. One is on landside and two are on airside. All are in the airport's departure area.
Shopping at Samos Airport
The only shopping available at the airport are the Duty Free Shops once past the security control.
ATMs at Samos Airport
There are three ATMs at the airport with one located in arrivals on airside, one in arrivals on landside and one in the all users area. Once past the security control there are no ATMs.
Currency Exchange at Samos Airport
There are two currency exchange desks, both located in the arrivals area of the airport, on airside and one on landside.
Health Care at Samos Airport
First Aid spots can be found in different areas of the airport and the staff at the Airport Information Counters may be contacted for further assistance in a medical emergency.
Lost and Found at Samos Airport
In the case of losing something on the aircraft please contact the airline. In the case of losing something in ground transportation please contact the company directly, and in case of losing something at the airport please contact the Airport Information Counters.
Things to do in Samos Airport
There are a number of activities to suit all ages and interests in the region - see a selection of tourist activities in Samos, Greece.
Samos Airport Contacts
Address: Samos Airport, Pithagorion, Samos 831 03, Greece
General Phone: +30 22730 87800
General Email: info@fraport-greece.com
Lost and Found Email: info@fraport-greece.com 
Lost and Found Phone: +30 22730 87800
Official Website: https://www.smi-airport.gr/en
Local Information
Drive on: Right
Electricity: 230V/50Hz
Plug: C, F 
Currency: Euro - €
Services at Samos Airport
Useful Information about Samos Airport