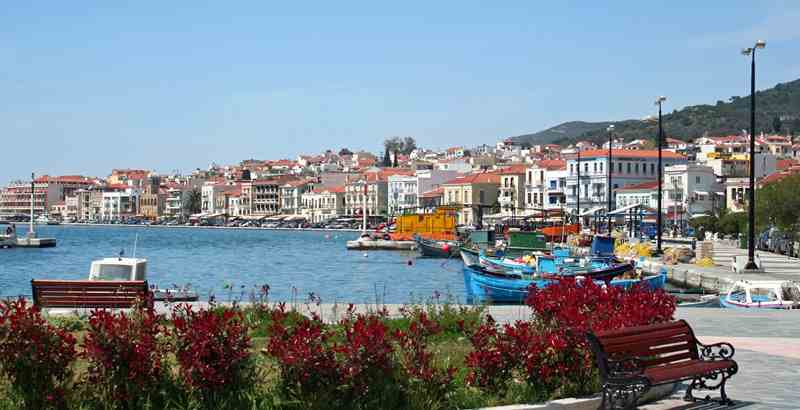 Renting A Car In Samos
Car Rental Guide for Tourists and Business Travelers in Samos, Greece
Welcome to the beautiful island of Samos, Greece. Whether you're a tourist seeking adventure or a business traveler needing reliable transportation, renting a car is undoubtedly the best way to explore this stunning destination.
With so many car rental options available at Samos Airport, it can be overwhelming to choose the right one. That's why we've put together this guide to help you navigate all aspects of renting a car in Samos, from driving directions and parking regulations to must-see attractions and accommodation options.
Choosing the Right Car Rental Company in Samos
Choosing the right car rental company can make or break your trip. That is why it is important to research and read reviews from previous customers to understand their experiences. Generally, you need to look for a company that offers a wide range of vehicles that suits your needs and budget.
Consider the location of the car rental office. Is it conveniently located near Samos Airport or within walking distance from your accommodation? This will save you time and hassle when picking up and returning the vehicle.
Another crucial factor to consider is insurance coverage. Read through all policies carefully and ask questions if anything needs to be clarified before signing any agreements. Some companies may offer additional insurance options at an extra cost.
Check for hidden fees, such as airport surcharges or drop-off charges, if you plan to return the car to a different location than where you picked it up.
To compare car rental prices or book a ride, see more about car rental services in Samos.
Car Rental Options in Samos
When arriving at the airport, tourists and business travelers have several options provided by several international and local car rental companies in the arrivals area, including Avis, Europcar, Hertz, Budget, and many more.
Booking your car rental in advance can help you secure a better deal and ensure availability during peak tourist season. It's also important to carefully read the terms and conditions before signing any agreement.
The types of cars available for rent vary from compact models to larger vehicles suitable for families or groups. Prices will depend on factors like length of the rental period, type of vehicle chosen, insurance coverage selected, etc.
Most companies offer additional features like GPS navigation systems or child safety seats for an extra fee. Some may even provide free shuttle services from the airport to their nearby location where the rentals are kept.
Driving Directions from Samos Airport
The airport is conveniently located just 14 kilometers from the capital city of Vathy. Visitors can easily reach their destinations from the airport by following these directions.
Once you leave the airport, turn right onto Pythagoreiou Street and continue straight until you reach the roundabout. Take the second exit to merge onto Samou Ring Road towards Karlovassi and Pythagorio. Continue on this road for approximately 7 kilometers until you see signs pointing to your desired destination.
If you're heading towards Vathy, turn left when you see signs indicating "Vathi" or "Samos Town." This will lead you to Kallistratous Street, which will take you directly into town.
For those traveling north towards Kokkari or Karlovasi, watch for signs directing you toward these locations. Follow the road along the coast past Agios Konstantinos Beach and Potokaki Beach until reaching your destination.
Benefits of Renting a Car in Samos
Renting a car can be one of the best decisions when traveling to this island. It allows you to explore at your own pace without relying on public transportation or taxis.
It provides convenience and flexibility. You won't have to worry about sticking to someone else's schedule or route; you'll have complete control over where and when you go.
It also offers comfort and privacy. Unlike buses or trains, which can get crowded and uncomfortable, especially during peak hours, renting a car ensures that only your group is in the vehicle giving everyone enough legroom space.
It saves time for tourists who want to see as many Samos as possible within their limited stay period because they can immediately go for public transport schedules.
Renting a car in Samos allows visitors to take scenic drives around the island while enjoying beautiful landscapes that most often cannot be accessed by foot or bike ride alone.
What are the requirements for foreigners to rent a car in Samos?
Foreigners must have their home country's valid driver's license. Greece also needs their International Driving Permit (IDP), which must be in either English or Greek.
Learn more on how to obtain an International Driving Permit for driving in Greece.
If you have a valid driver's license and are over 21, renting a car in Samos is accessible for foreigners without too many additional requirements or restrictions.
Most rental companies also require renters to be at least 21 years old, although some may require renters to be over 25. You must also provide proof of insurance for the vehicle you're renting.
What are the payment options for foreigners renting a car in Samos?
Several payment options are available depending on the car rental company you choose. Most companies accept major credit cards such as Visa, MasterCard, and American Express for online reservations and in-person payments. Some companies may require a cash deposit or prepayment before releasing the rented vehicle. It is important to check with your chosen rental company beforehand to avoid surprises at pick-up time.
Another option is to use third-party booking sites that offer discounted rates but require full payment upfront. These sites usually offer secure online payment methods. Travelers can also consider using international debit cards authorized for overseas transactions. However, some local banks may charge additional fees for foreign card usage.
Tips for Avoiding Fees or Charges When Renting a Car in Samos
When renting a car, knowing any applicable fees or charges is important. You'll enjoy a stress-free travel experience with no unexpected bills or expenses popping up along the way.
Read the terms and conditions carefully before signing any agreement. This will help you understand what is included in the rental price and what additional charges might apply.
Inspect the vehicle thoroughly before driving off. Please take note of any existing damage, such as scratches or dents, so you won't be held responsible for them later.
Return the car on time to avoid late fees or extra day charges. If you need the car longer than originally planned, inform the rental company to avoid surprises.
Fill the gas tank before returning it to avoid the rental company charging an inflated refueling fee. Typically, rental car agencies require that you return their vehicles with full gas tanks.
Consider purchasing insurance coverage from a third-party provider instead of relying solely on the rental company's offers. This can save money while still providing adequate protection during your trip.
What to do when driving in Greece as a foreigner for the first time?
Driving in Greece can be a daunting experience, but with the right preparation, it can also be enjoyable. Here are some tips to help you navigate Samos roads as a first-time driver.
If you're visiting Samos from a nation where people drive on the left side of the road, you may need a few moments to get used to driving on the right. These are the speed limits: City limits: 50 km/h (31 mph); highways: 110 km/h (68 mph).
Ensure you have all the necessary documentation ready before hitting the road. This includes your driver's license, passport or ID card, and car rental agreement. It's important to note that driving laws may differ from your home country, so familiarize yourself with them beforehand.
Take advantage of GPS technology when traveling around Samos Island. Most modern smartphones have installed map applications to help you navigate unfamiliar areas easily.
Pay attention to local driving habits and customs, such as roundabouts and yielding for pedestrians at crosswalks, even if they don't look like they're about to cross.
Remember to remain calm and alert while on the road since unexpected situations often occur when driving in foreign countries. Always follow traffic rules even if locals around you disobey them.
What are the parking and traffic regulations?
Following the parking and traffic regulations is important to avoid fines or penalties. In general, parking in Samos is regulated by color-coded lines on the street - blue lines indicate paid parking areas, while white lines are free.
It's also important to note that you should never park in front of fire hydrants or block driveways. Parking illegally can result in your car being towed, so pay attention to signs indicating restricted areas.
Regarding traffic regulations, always remember that Greece drives on the right side of the road. Additionally, speed limits are posted in kilometers per hour (km/h) and vary depending on whether you're driving within a city or outside of it.
Be aware of pedestrian crossings and always yield to pedestrians. Using your phone while driving is illegal unless you have a hands-free device.
Samos offers a wide range of parking options to meet the diverse needs of visitors - see more about parking in Samos.
What to do if you're involved in a traffic accident?
Getting into a traffic accident can be a stressful and overwhelming experience, especially when in a foreign country. If you are in this situation while driving in Samos, it's important to remain calm and follow the necessary steps.
Ensure that everyone involved is safe and not injured. Call for medical assistance if required. Next, call the police immediately to report the accident and provide your location details.
It's also crucial to exchange information with other drivers, such as names, contact numbers, vehicle registration numbers, insurance policy details, etc. Take photos of the scene, including damages caused to vehicles or property.
If any witnesses saw what happened, ask them for their names and phone number so they can give their statements later.
After speaking with authorities, immediately notify your car rental company about the incident. They may have specific requirements regarding reporting accidents or damages incurred during rentals which must be followed accordingly.
What to do if the traffic police stop you?
If the traffic police in Samos stop you, remaining calm and polite is important. First, you should pull over safely and turn off your engine.
The officer will likely ask for your driver's license, registration, and insurance documents. Make sure you have these readily available before they approach your vehicle.
Be honest with the officer if they ask about violations or infractions. Trying to hide something will only make matters worse. If you need help to understand what the officer is saying or asking for, politely ask them to clarify.
If the officer issues a ticket or citation, read it carefully and understand your charges. You can contest the ticket in court if necessary.
It's also important to remember that bribery is illegal in Greece. Do not attempt to bribe an officer under any circumstances.
Staying calm and respectful during a traffic stop can go a long way toward resolving any issues quickly and smoothly.
What are the transport alternatives to renting a car in Samos?
While renting a car is the most convenient way to travel around Samos Island, other transportation alternatives are available for tourists and business travelers. Public transportation on the island consists of buses between major towns and villages throughout the day.
The bus routes cover most of the popular tourist destinations on the island, making it a cost-effective option for those who wish to explore Samos without having to bear rental fees. However, visitors may have to wait longer at some stops as buses can get crowded during peak seasons.
Another alternative is taking taxis or hiring a private driver if you prefer door-to-door service with more flexibility than public transport. Taxis are readily available at designated taxi stands in various locations on the island, including Samos Airport.
Cycling is another great option for adventure while exploring Samos Island. Many bike rental shops offer high-quality bicycles equipped with helmets and safety gear. It allows visitors to enjoy picturesque scenic views of nature trails and hidden beaches that might not be accessible by cars.
For bus routes and other transport options in Samos, see more information about transportation alternatives in Samos.
What are the must-see attractions I can visit using a rental car in Samos?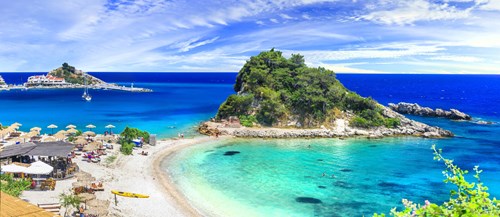 Samos is a beautiful island with plenty of attractions. Samos has something for everyone, whether you are a history buff, an adventure seeker, or just looking for relaxation time.
One must-see attraction on the island is the Heraion of Samos, which was once an important sanctuary dedicated to the goddess Hera. The ruins of this ancient temple complex are nestled in a picturesque location near Pythagoreio and offer stunning views over the sea.
Another popular destination is Pythagoreio, which boasts many charming shops and restaurants along its narrow streets. Take advantage of the Efpalinio Orygma Tunnel - an ancient, impressive underground aqueduct. Built as an aqueduct in the sixth century BC, it spans 1,036 meters (3,399 feet) through Mount Kastro in Samos, Greece.
For nature lovers, Mount Kerkis offers fantastic hiking opportunities and breathtaking panoramic views from its summit. And if you're looking for beach time, visit Kokkari Beach or Tsamadou Beach - known for their crystal clear waters and serene atmosphere.
Discover more about other tourism attractions on the island. See more details about the best tourism offerings in Samos that you can visit.
What types of accommodation are available in Samos?
From luxurious hotels to budget-friendly apartments, the island offers a variety of accommodation options. Visitors can choose from beachfront resorts, boutique hotels, villas with stunning views, and charming bed-and-breakfasts.
Camping sites are also available for those who want a more immersive experience in nature. Many accommodations offer amenities such as swimming pools, spas, restaurants serving local cuisine, and bars with panoramic vistas.
The price range for hotels in Samos, Greece, can vary greatly.
Plenty of affordable options, such as guesthouses and apartments, offer basic amenities for those on a budget. Prices start from around €20 per night. If you're looking for something more luxurious, luxury resorts with 5-star facilities offer prices ranging from €100 to €250 per night.
There is also a wide selection of mid-range accommodation with rates starting from about €40/night and going up to about €100/night depending on the season and availability.
To compare prices or book a hotel on the island, see further details about available accommodations in Samos.
UNBEATABLE VALUE CAR RENTAL

FREE
Amendments,
FREE
Cancellations,
NO
card fees!
airport_shuttle Need Airport Transfers?
Useful Information about Samos Airport