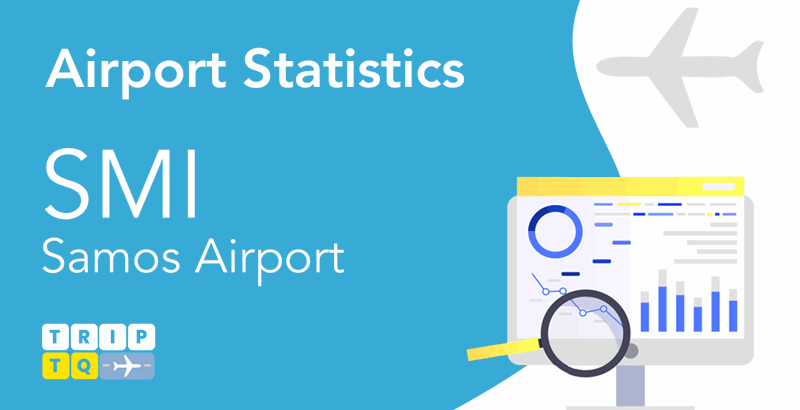 Samos Airport Passenger Traffic Slightly Down 5% YoY in Q3 2023
Samos Airport in Greece has defied industry trends with a remarkable surge in passenger traffic in Q3 2023. Despite ongoing market challenges and the lingering impact of the pandemic, the airport witnessed a significant increase in passenger numbers, demonstrating its resilience and adaptability. This upward trajectory is particularly noteworthy considering the airport's pre-pandemic performance in 2019, with Q3 2023 passenger figures surpassing those of the same period in 2019.
Sustained Passenger Growth at Samos Airport – Q3 2023
Samos Airport in Greece has been making continuous efforts to increase passenger volume growth. The significant improvement in Q3 2023 is a testament to these efforts. Compared to the same quarter of the previous year, there was a slight decrease of 5.25%. From Q3 2019 to Q3 2023, the airport has seen a general upward trend in passenger numbers despite the challenges posed by the global pandemic.
Samos Airport Passenger Volume – Q3 2019 to Q3 2023
Analyzing Samos Airport's Q3 2023 passenger traffic data, the airport has fared well compared to the rest of the quarters. When comparing Q3 2023 to Q3 2019, the pre-pandemic quarter, it's evident that the airport has not only recovered but surpassed the pre-pandemic levels.
Despite a slight decline compared to Q3 2022, the airport has successfully recovered from the impact of the pandemic on passenger traffic. This is a significant achievement, considering the challenges for the airport. The resilience and adaptability of this gateway are commendable, and it continues to serve as a vital hub for travelers.
Passenger Traffic at Samos Airport – 2019 to 2022
The passenger traffic at this airport has seen significant fluctuations from 2018 to 2022. In 2018, the airport served 437,946 passengers, which increased by 4.30% to 456,790 passengers in 2019. However, due to the global pandemic, there was a drastic decrease of 65.70% in 2020, bringing the total passenger count down to 156,689.
In 2021, the airport experienced a rebound with an 85.15% increase in passenger traffic, serving 290,114 passengers. The upward trend continued into 2022, with a significant increase of 68.96%, bringing the total passenger count to 490,183. This is the highest number of passengers the airport has served in the last five years.
The significant increase in passenger traffic in 2022 could be attributed to various factors, including the easing of travel restrictions and the return of consumer confidence in air travel following the global pandemic. This upward trend in passenger traffic could indicate a positive outlook for the airport's future operations.
Flight Statistics at Samos Airport – September 2023
This gateway offered passengers various domestic and international travel options in September 2023. The most popular destinations for international travel were Amsterdam, Dusseldorf, Prague, Stockholm, and Oslo. Athens, Thessaloniki, Chios, Rhodes, and Mytilene were the top choices for domestic travel.
The hub was served by several airlines that operated frequent flights from this gateway. Olympic Air, SKY Express, TUI, SAS, and Transavia were some airlines that flew to various destinations from this hub.
Are you a travel publisher and would like this information for your site/blog/publication?
Contact us on this form to request Samos Airport Statistics (Statistics, data and infographics are available for a wide range of airports worldwide - please tell us your requirements using the form)
UNBEATABLE VALUE CAR RENTAL

FREE
Amendments,
FREE
Cancellations,
NO
card fees!
airport_shuttle Need Airport Transfers?
Useful Information about Samos Airport